Podcast: Play in new window | Download
How do you perform your best when it counts the most?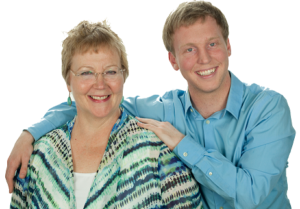 Dr. Nita Matthews-Morgan and Josh Matthews-Morgan are a unique mother-son team who use brain science and other research-based tools to help people develop the mental habits of success. They are the authors of Deliver: How to Perform Your Best When it Counts the Most.
Together, they created the Excelerate Online Training program. This cutting-edge training program uses tools from psychology and neuroscience to help entrepreneurs and other high performers achieve greater levels of productivity, success and joy.
Prior to founding Learn Your Brain, Dr. Nita Matthews-Morgan taught Educational Psychology classes at the University of Georgia for over 15 years. She also served as Director of UGA's Torrance Center for Creative Studies and Talent Development. She was a protegé of Dr. Paul Torrance, who's considered to be the "Father of Modern Creativity."
In today's conversation, Nita and Josh use a helpful analogy of an elephant and its rider to explain how our two brains drive behavior – the emotional brain and the rational brain. We explore the barriers to transformation, why affirmations don't work for certain people, and how to identify your deepest limiting beliefs and then transform them into more positive, constructive beliefs.
Nita and Josh provide many practical personal examples, including how to deal with anxiety and deep rooted fears, as well as scenarios they have experienced within teams, in order for us to understand how to use these insights to make better decisions and build more effective teams. We also address the delicate issue of firing someone on the team who is not a good fit and how to handle the saboteurs that surface when we are under stress or perceived attack.
Practical, insightful and empowering, this episode with Dr. Nita Matthews-Morgan and Josh Matthews-Morgan will give you valuable tools and inspiration to learn your brain and develop the skills you need in order to achieve peak performance and live a more fulfilling and confident life.
Key Takeaways
The emotional brain doesn't understand language – therefore talking is not enough to create transformation.
If you have a really strong opposing belief, when you try to affirm the opposite, it actually strengthens the negative belief. So you have to learn to shift the negative belief before you can affirm something positive and different.
We have to deal with the emotions first and most people don't want to do that.
When you sabotage yourself, you're usually trying to avoid some kind of pain.
You can't take away the [comfort food] until you give yourself what you really want on an emotional level.
Ask yourself, "What can you replace the negative habit with, that will give you the same type of feeling in a healthy way?"
What often drives us crazy about other people are their saboteurs; their way of dealing with the world, especially in stressful situations.
Everything we do is to feel safe – it's the #1 priority of the emotional brain.
The journey is worth it.
Free Saboteur Assessment: www.positiveintelligence.com
Receive Your Free Gift 
The Beginner's Guide to Overcoming Limiting Beliefs
Additional Resources
Connect With Dr. Nita and Josh Matthews-Morgan
Did You Enjoy The Podcast?
If you like this episode let us know! Reviews for the podcast on iTunes are greatly appreciated. This helps us reach more entrepreneurs seeking to make a positive impact in the world. If you received value from this episode, it would mean so much if you could take a moment and leave your 5-star rating and review. You can do that by visiting here. Thank you! Together we can make a difference!